LOCATION
The Hotel PRAGUE INN **** is very suitably located, immediately in Wenceslas Square in the very central position in Prague. Wenceslas Square and its pedestrian zones guarantee all our guests the required peace for rest at the hotel. At the same time, its location makes it possible to reach on foot without exerting too much efforts most of the best favoured tourist sights.
GPS Loc: 50°5'2.825"N, 14°25'23.24"E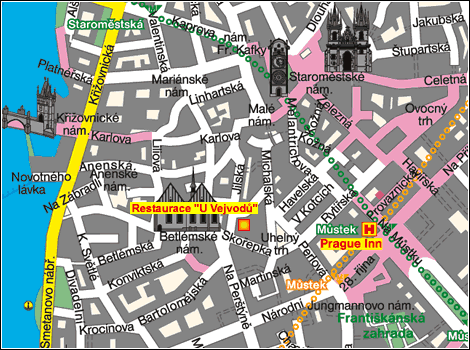 It will take you 2 minutes to reach the Old Town Square with its historic Old Town Hall in whose tower the Apostles and the Death with a time-glass have been measuring time for centuries now, the burgers' houses richly decorated with stucco and statues, two dominating churches: the Gothic Our Lady before the Walls Church and the Baroque St. Nicolas Church built by the famous Prague compatriot, Kilian Ignaz Dientzenhofer.
If you take Na Příkopě Street from the Hotel PRAGUE INN, within minutes you see the Powder Tower and further a short and pleasant stroll through the picturesque Prague alleys will take you to Jilská Street where you are strongly recommended to pay a visit to one of the world known and world famous pubs known as 'U Vejvodů' that serves the genuine Pilsner beer.
Walking in the other direction, you will be taken to no less picturesque parts of the Old Town of Prague: Karlova (Charles) Street that leads to Křižovnické (Crusaders) Square where you can admire the world know panorama of Prague Castle (Hradčany) with its St. Vitus's Cathedral, as well as the entire scenic throng of spires, roofs and facades of the Lesser Town of Prague, dominated by the dome of St. Nicolas Church, spreading under the castle hill. All you need to do is to cross the CharlesBridge with its alley of saints, one of the most beautiful pedestrian zones in Europe with nice views of the River Vltava (Moldau) that mirrors, depending on the time of the year and the weather, the varied Prague architecture, and to climb the hill up to Prague Castle.
Last but not least, the hotel patrons live only steps from the opulent residential area dating back to the beginning of the 20th century built in the Eclectism and Modern Styles. Moreover, there are the remains of the mysterious enclaves of the former Jewish Town: the Old-New Synagogue, today the oldest one in Europe, and the Old Jewish Cemetery with thousands of unique tomb stones.
At the same time, the Hotel PRAGUE INN is situated within reach of the stops of the Metro (Underground) lines A and C, named Na Můstku; thanks to it, you can also see some of the more distant sights in Prague, or reach the Main Railway Station and the International Airport Ruzyně.