Location
The Hotel PRAGUE INN **** is very conveniently situated right on Wenceslas Square, in the heart and the centre of Prague. Wenceslas Square and its pedestrian zone guarantees all our guests the necessary peace to relax. The hotel's location allows you to easily reach all tourist destinations on foot without the use of public transport or taxi.
GPS location: 50°5'2.825"N, 14°25'23.24"E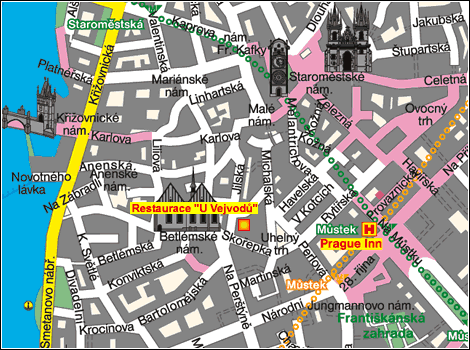 It will take you only 2 minutes' walk to reach the famous Old Town Square with the Old Town Hall; on its tower the Apostles and the Death have measured time with an hourglass for centuries. The patrician houses decorated with stucco and sculptures and two dominant churches – the Gothic Church of Our Lady before Týn and the Baroque Church of St. Nicholas from the famous Prague compatriot Kilian Ignaz Dientzenhofer – are also worth mentioning.
From the Hotel Prague Inn, you can take Na Příkopě Street to the Powder Tower, then take a very pleasant stroll through Prague's alleyways to Jilská Street, where we can wholeheartedly recommend one of the most famous traditional restaurants – Pilsner Urquell Original restaurant "U Vejvodů".
The walk in the opposite direction also offers a picturesque part of Prague's Old Town: Charles Street (Karlova ulice) leads onto Crusaders' Square (Křižovnické náměstí), where a magnificent view of Prague Castle District (Hradčany) with St. Vitus Cathedral and the whole panorama of the Lesser Town spires, roofs and eye-catching St. Nicholas Church can be seen. While walking across Gothic Charles Bridge you can fully enjoy the atmosphere of old Prague, see the diversity of Prague architecture and take a leisurely stroll to Prague Castle.
An interesting part of old Prague is Josefov – the old Jewish town where you can visit the Old-New Synagogue and the Old Jewish Cemetery.
Hotel Prague Inn is in close proximity to Metro A – Můstek and C – Museum; thanks to this our guests can visit more distant Prague sights, galleries or museums. Train stations and Ruzyně Airport (Václav Havel Airport) are also reachable by Prague public transport.